Hydraulic Breakers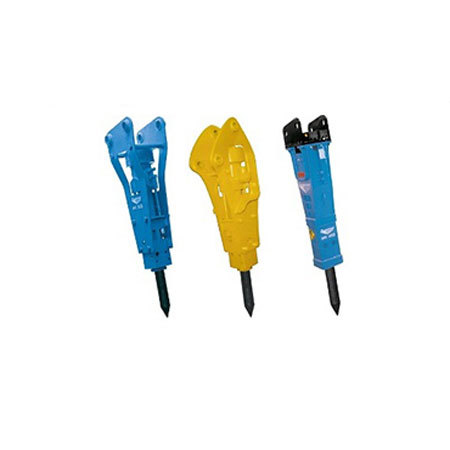 Hydraulic Breakers
With the guidance, efforts and knowledge of our expert professionals, we are able to supply the top quality
Hydraulic Breakers
to our precious patrons. Our products are highly appreciated due to its durability and superior quality. The offered range is considered as the backbone of the development projects, constructions and buildings. To provide the best quality products to our customers, we provide O.E.M parts for heavy equipment from KOMATSU, JCB, CAT, etc. Furthermore, our company is offering the range of
Hydraulic
Breakers
at an affordable price.
Features
:
Superior quality
Powerful
High durability
Easy maintenance
As the prevailing market is seeing massive advancement rise and as we have confidence in MAK to take an interest in propelling environment. Our principle objective is to give O.E.M components to hefty equipment from CAT, JCB and KOMATSU and in addition the options, quick to give quality to its clients.
Prime sort of Hydraulic Breakers from IDROMECCANICA - DOWIN AND ITALY- KOREA with solid effect power dependability.
Performing many pulverization works.
Simple handling by ideal design, distinguished from typical breakers.
High viability on the work locations by unrivaled durability and quality.
Best Solution For Breakers
We are offering great alternative to pneumatic breakers for concrete and asphalt roads, paths, drives, pavements, slabs and patios for the customers. Our range of hydraulic breakers possess an amalgamation of optimum performance along with less operator fatigue. It additionally offers elevated efficiency by meeting hydraulic capacity of conveyor to the breaker, permitting constant machine to breaker efficiency. Further, out hydraulic breaker also gives a smoother and quieter working while still keeping blow per 60 seconds. It comprises the features of carrier versatility, simple mounting, noiseless operation, hose guard, included no-go/no gauge, auto power, least maintenance, power room with diaphragm, steel-ring system sole lower bushing and breaker cradle.
Tasks That Can Be Performed:
Our range of hydraulic breakers possesses various features that pneumatic breakers does not have. Through the great efficiency of our product, customers can execute the following jobs without any trouble and also in less time frame:

Interior Demolition
Road Repair
Precise Demolition Jobs
Flat-work Demolition

Contact Details
MAK HEAVY EQUIPMENT AND MACHINERY SPARE PARTS TRADING LLC
Al Saif Building # 15, Hor Al Hnz, Dubai - 26534, United Arab Emirates
Quick Services